Cat Stevens - Morning Has Broken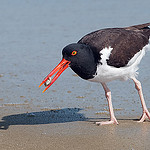 Two weeks ago, we began acquiring oyster seed at 2mm.  The size of a grain of sand, it's called spat.  We buy from several nearby hatcheries, in case one has a poor set and cannot supply us with the requested amount.
The first batch came from Aeros aquaculture in Southold.  They sold us 500K in a two liter pouch.  At that time, the water temp was a chilly 49.  Monday, with the water climbing up to 56, we measured 7 liters –  a very nice 250% growth rate in two weeks.  By this weekend we will have to sort them by size so the bin is not too crowded.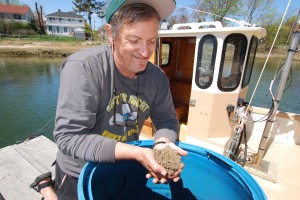 The growth rate here in the late spring and summer always astounds me.  Not only will the 7 liters of spat which we originally purchased swell to 18 bins of big 25 mm seed by September, but, the 2 year old animals that were not big enough to sell in may, that is, less than 3 inches, will zoom up to plump, meaty 4 inch plus animals by September.  It makes the  cold winter where we burned 5 cords of firewood worth the long hibernation.