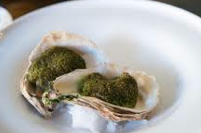 When chefs visit our farm, we welcome them with trays of
Widow's Hole Oysters Rockefeller and flutes of champagne.
Even those that don't eat oysters will devour WHO Oysters Rockefellers!
Recipe :
Shuck oysters, leave oysters on the half-shell, and  pour liqueor into a bowl.  Arrange the oysters in neat rows on a baking sheet.
Steam spinach (farm fresh best, but if unavailable, use any fresh leafy green.  We've found that mustard greens are surprisingly flavorful. In a pinch use frozen.  Nobody will complain. )
Puree spinach and lettuce
Make white sauce (butter, flour). If crowd appears difficult to please, use some bacon grease.
When white sauce is thickened, pour in the pureed spinach & lettuce.

Add the liqueor from the shucked oysters. ( A fresh oyster should be full of liquid. If not, be wary.)

 To Taste:   dash of worcestershire and 2 splashes of Pastis, and a few gratings of nutmeg.
Taste again:  If not zingy,  with extreme caution sprinkle with cumin and dribbles of lemon juice.
Top oysters with the spinach sauce: seal in each oyster from shell-to-shell and carefully:
Sprinkle with breadcrumbs.
There is a debate amongst oysterphiles if the grated Romano goes above or below the breadcrumbs.
If oysters are from warm or muddy water,   zest some  lemon.
Broil for 9 minutes –  you must broil until frills of oysters curl, oyster is piping hot, and top is browned.  Remove from oven when you  peek in and the oysters are irresistable.